Titan Syringe Pump
The Titan Syringe Pump is a high-performance pump for safe and reliable continuous flow scale-up with maximum chemical compatibility and ultra-smooth flow.
At a glance
The Titan Syringe Pump is a single channel pump optimized for chemical continuous processing applications and offers flow rates from 1 mL to 250 mL/min and pressures up to 20 bar. It allows manual control via its touchscreen and full automation with PC software.
The Titan Syringe Pump has been designed for safe and reliable scale up and offers ultra-smooth fluid flow for lab scale, pilot plant, and production scale applications.
Titan Syringe Pump logs data for export, can be used in manual or automated mode using PC software, and offers the ability to interface with other equipment.
Request more information
Continuous, ultra-smooth flow
Powerful drive motors, innovative valve design, and software control have been combined within the robust module to deliver ultra-smooth flow with flow rates from 1 to 250 mL/min, viscosities of up to 1000 cP and with or without an applied backpressure of up to 20 bar.
The novel syringe cassette is designed for seamless interchange. It also allows seals to be replaced with the minimal use of tools. Pressure sensors, lock-out tags, and connectivity to 3rd party E-stop hardware ensures a safe working environment.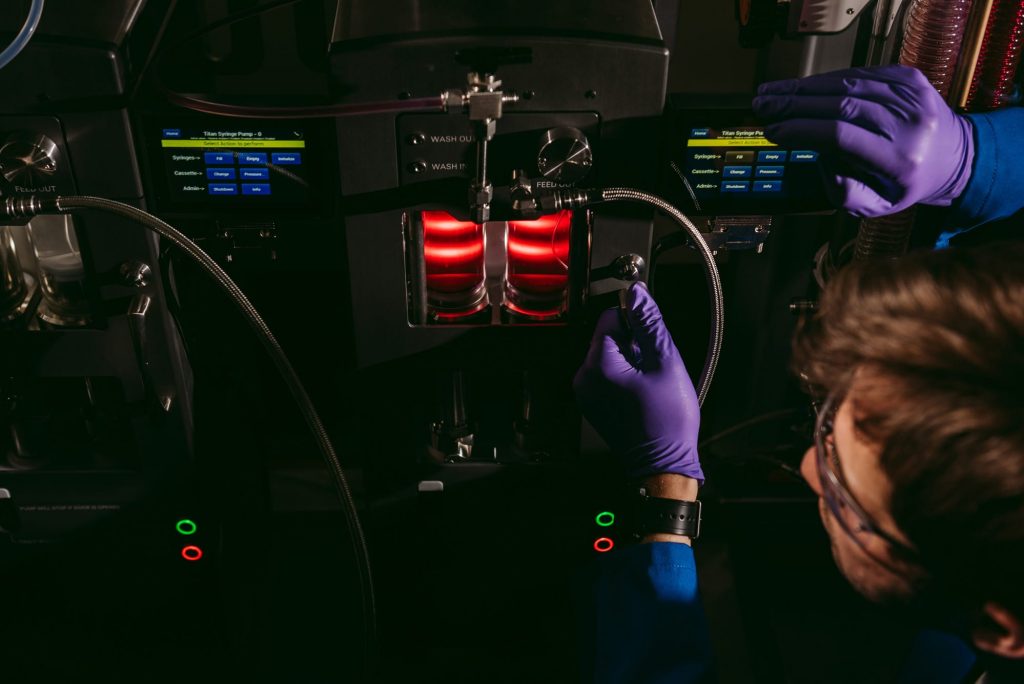 Safe, reliable, continuous use
The pump can be continuously run for months at a time and minimized stagnant zones means the integrity of your chemistry can be maintained for longer.
The Titan Syringe Pump contains a backwash to prolong seal life and maintain clean syringe pistons and cylinders. Along with the backwash feature, the syringe cassettes may be immersed under a gas blanket to allow the use of air-sensitive reagents.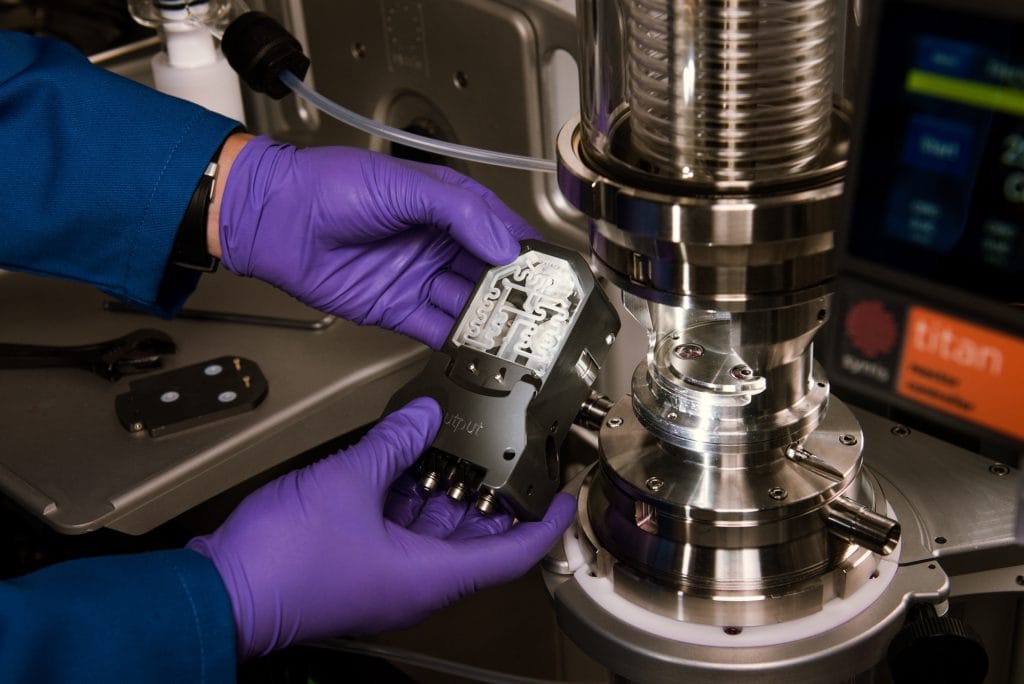 A range of applications
Titan Syringe Pump can be used in a wide range of applications, including;
Chemical reactions
Pharmaceutical processes
Pilot-scale production
Scale-up studies
Nanoparticle synthesis
Pressure-sensitive chemistry
Bulk precision manufacturing
The pump can also be used with various fluid types, including organic or aqueous solvents, acidic or basic reagents, air-sensitive solutions, and viscous or non-viscous liquids.
Specifications
| | |
| --- | --- |
| Flow Rate | 1 mL to 250 mL/min |
| Pressure Range | Up to 20 Bar |
| Safety | Seal backwash, gas blanketing, interlocks, anti-tamper, pressure detection, and auto shut down features |
| Production Volumes | Lab scale, Pilot scale, Production scale. A complete Production Scale Titan system can produce up to 1 tonne of product per day |
| Modes of Operation | Control and display of real-time measurements via its intuitive Titan Remote Display touchscreen or PC software |
Support

These support articles may be helpful for this system